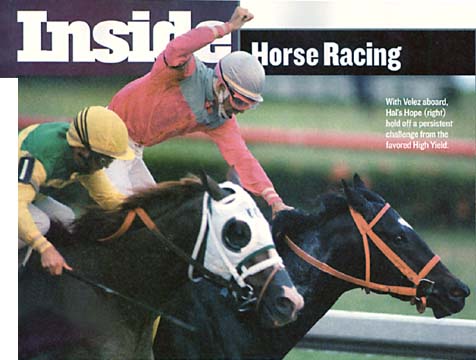 Run for a Rose
Hal's Hope thrust his 88-year-old owner-trainer into the Derby picture
BY WILLIAM NACK
HAROLD ROSE is 88 years young and has been training race horses in South Florida for more than 30 years, with a few classy animals sprinkled in among the hundreds of claimers he has sent to the gate. But the man had never experienced anything like the buzz and tumult that whirled around him late last Saturday afternoon. Leaving the pandemonium that was the winner's circle at Gulfstream Park, his eyes growing moist, Rose was greeted by a gaggle of admirers who were waiting for him on the track apron. Dozens more waved and saluted him from the second-floor balcony overlooking the track.
Just 15 minutes earlier Rose's gritty 3-year-old, Hal's Hope, a nearly black colt whom he bred and owns, repulsed three determined bids from the heavily favored High Yield and won the mile-and-an-eighth Florida Derby by a head. The race is the state's most important prep race leading up to the May 6 Kentucky Derby, and so strenuous were the colt's efforts to win that he almost collapsed as his ebullient jockey, Roger Velez, rode him back to the winner's circle.
If Hal's Hope had proved himself something of a survivor, he was no more so than his owner. Rose suffered a heart attack and underwent quadruple bypass surgery last August, and he says his belief in the colt-who was still a maiden-brought him back to the track only three weeks later. "Knowing I had this horse was probably one of the reasons that I got over the operation so quickly," Rose said last Friday. "I couldn't wait to get to the barn. "
Hal's Hope won twice as a 2-year-old, but not until Jan. 15 did he show why Rose was making such a fuss over him. Barreling to the lead in the mile-and-a-16th Holy Bull Stakes at Gulfstream, he outran a field of 10 others, winning by 5 1/4 lengths. In the Fountain of Youth five weeks later, on a track that had a strong rail bias, he chased High Yield all the way around but couldn't close ground. Hal's Hope finished second, beaten by 3 1/4 lengths, and bled slightly during the race. In the Florida Derby he raced on Lasix, and he ran hard and true for the full nine furlongs.
Rose bred and owned the colt's dam, a high-class racer named Mia's Hope, and in 1996 he sent her to the stallion Jolie's Halo, a speedy colt during his days on the track. So the son of Mia's Hope was really family, and on Saturday he gave Rose the gift of a lifetime. "I have realized part of a dream-to win the Florida Derby," Rose said. "The ultimate realization of the dream will come in Kentucky in May. I hope."
Sports Illustrated, March 20, 2000. Vol 92, No. 12. p.98
<back to Hal's Hope page>