Breast Cancer:
Diagnosis & Treatment
---
Pinpointing the Problem
Our diagnostic methods include:
Mammography. This safe, low-dose x- ray of the breast is a crucial tool in helping to discover small cancers . Diagnostic and screening exams are available at our facility. Screening mammograms also are provided in our Mobile Mammography Van, available by reservation to organizations such as condominium associations, employers and shopping malls. Digital mammography improves the radiologist's ability to read mammograms, as there is improved contrast between normal and abnormal tissues making diagnosis easier. Digital imaging appears to be the greatest breakthrough in breast imaging in the last 25 years.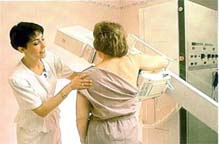 Ultrasound. This procedure uses sound waves to provide pictures of suspicious areas in the breast.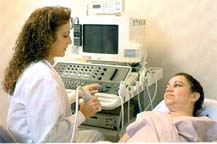 Fine Needle Aspiration. With a very thin needle, physicians can remove enough cells and/or fluid from palpable or non-palpable masses to help determine if they are cancerous.
Non-surgical, Digital Stereotactic Breast Biopsy. Using digital imaging and a computer-guided, hollow-core needle, physicians can determine whether a non-palpable area is cancerous. This one-hour, outpatient procedure is virtually painless, highly accurate and produces no scarring.
<View surgical footage of breast biopsies here>
Excisional Biopsy. Physicians may find it necessary to surgically remove all or part of a suspicious mass before they can determine whether it's cancerous.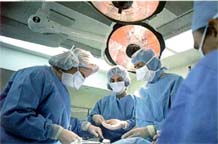 MRI. Magnetic Resonance Imaging is a radiation-free procedure that provides detailed images of the breast, further defining lumps an pinpointing size and location. MR images also can help physicians evaluate breast implants.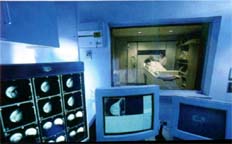 ---
Carefully Considered Treatment
Lumpectomy. This is the surgical removal of the lump and some surrounding tissue, a procedure that often can be used in earlier stages of detection,
Mastectomy. The surgical removal of the breast may be necessary if the mass is large in relation to breast size, if the cancer is late-stage, or if the risk of spreading is high.
Reconstructive Surgery. Patients often choose to have our highly skilled plastic surgeons reconstruct a breast during the mastectomy procedure.
Radiation and Chemotherapy. To help eradicate the cancer, these treatments often are used instead of or in conjunction with surgery. The Center for Breast Care through Lynn Regional Cancer Cancer of Boca Raton Community Hospital offers the most advanced radiation and chemotherapy treatments.
---
Combining a highly trained staff
with the most advanced technology,
the Center for Breast Care of Boca Raton Regional Hospital
provides several options
for diagnosis and treatment.
A Cohesive Team
Approach
Our revolutionary team approach
to diagnosis and treatment ensures quality,
focused attention to each patient's individual needs.
It's part of our commitment to
putting patients first.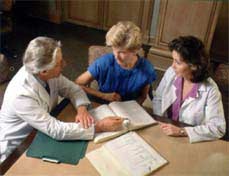 ---
For more information about diagnostics and treatment at
the Center for Breast Care
at The Women's Center
of Boca Raton Regional Hospital,
call (561) 955-5000

690 Meadows Road
Boca Raton, Florida 33486
(East of I-95, just south of Glades Road)
(561) 955-5000