Cardiac catheterization and coronary angiography
More than 4 million patients per year undergo invasive cardiac catheterization each year in the United States with more than 30% of these examinations being normal. Approximately one million undergo revascularization procedures including stenting and coronary artery bypass grafting.
The procedure involves passing a plastic catheter over a guide wire and selectively injecting x-ray contrast into the aorta (main artery coming out of the heart) and the coronary arteries, which supply oxygen to the heart. The major complication rate of this procedure including stroke, heart attack, infection,arterial injury, and death is approximately 1% at most centers. The radiation exposure for diagnostic imaging alone is approximately 3 to 6 mSv but can go above 30 mSv in prolonged interventional procedures. Relatively large doses of iodinated contrast may be used which can be toxic to the kidneys.
Coronary angiography is currently the standard for diagnosing coronary artery disease and is the primary method used to help delineate coronary anatomy. In addition to defining the site, severity, and morphology of lesions, coronary angiography helps provide a qualitative assessment of coronary blood flow and helps identify collateral vessels. Correlation of the coronary angiogram and left ventriculogram findings permits identification of potentially viable areas of the myocardium that may benefit from a revascularization procedure. Left ventricular function can be further evaluated during stress using atrial pacing, dynamic exercise, or pharmacologic agents. Also, valvular function with pressure measurements can be performed to quantify severity of disease.
Limitations of the diagnostic efficacy of coronary arteriography include:
The severity of stenosis is generally estimated visually, and estimation is limited by the fact that inter-observer variability may range from 30-60%
The presence of diffuse disease also may lead to underestimation of stenoses because the narrowed areas are expressed as a percent of luminal diameter compared with adjacent normal coronary segments, and, in diffuse disease, no such segments exist.
Early coronary artery disease will not be detected unless there is a visible narrowing of the lumen of the vessel on the x-ray images.
Due to the tortuosity (curving), complex branching and overlapping vessel pattern, and limitations on the angles and views, which can be obtained with a rotating x-ray tube around the patient, blockages may be underestimated or not detected at all.
In the last several years, intra-vascular ultrasound (IVUS) has become the gold standard for detection of plaque in the coronary arteries and more precise quantification of blockages as well as plaque characterization. A tiny ultrasound transducer is mounted to a guide wire, which is then selectively placed into each coronary artery. It is technically demanding, needs further standardization, and can significantly lengthen the cardiac catheterization procedure. Therefore, it may not be performed routinely at many centers.

Normal IVUS image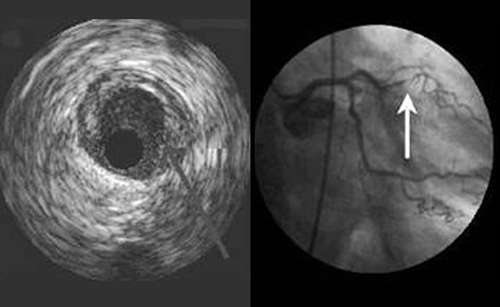 Extensive soft plaque build up and correlative x-ray angiogram image