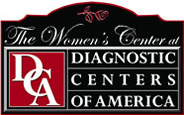 At the Center for Breast Care of Boca Raton Regional Hospital, we want women to know they are not alone and that many gains have been made in breast care. It is true that breast cancer is the most common malignancy in women and that just being a woman increases your risk for the disease. It is also true that 75% of women who are diagnosed with breast cancer have no other obvious risk factors. But the fact is, the advances in treatment have been remarkable, and the inroads in early detection have boosted survival rates to more than 95 percent - providing optimistic outlooks as well as healthy futures. The Center for Breast Care is proud to be part of this future.
Your future.

We are committed to every facet of breast health, from prevention, risk-reduction education and wellness education to screening and treatment.

Among the services we offer are:

Physical breast examinations
Screening and diagnostic mammography
Additional, highly advanced screening, diagnostic and treatment options
A team approach to breast care
Patient-care coordinators
Breast consultation service
Psychosocial counseling
Support groups
Community-wide education and screening programs, including our Mobile Mammography Van
Resource and referral network
Health resource library
Plastic reconstructive surgical referral service
Surgical and medical oncologist consultation service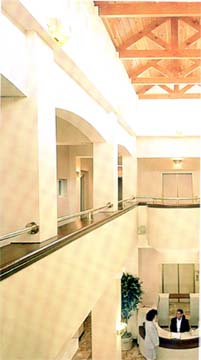 Credentials You Can Count On
The Women's Center of Boca Raton Regional Hospital has maintained a leadership role in meeting the health needs of more than 10,000 women each year, With the opening of the Center for Breast Care, patients benefit from the most innovative and respected expertise in the diagnosis, treatment and education of breast concerns. The Center for Breast Care does not stand alone. Its sister facility, The Women's Center, is accredited by the American College of Radiology and is certified by the FDA. As part of the FAU College of Medicine, the Center is also involved in the education of the next generation of physicians. Lynn Regional Cancer Center of' Boca Raton Regional Hospital brings additional reassurance to Center for Breast Care patients with these credentials: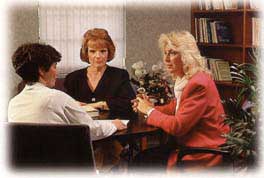 BRRH was the first hospital in Palm Beach County to become an Approved Cancer Program by the American College of Surgeons' Commission on Cancer.
BRRH was the first hospital in Palm Beach County to be selected as a Partner for Cancer Control by the American Cancer Society. It is a member of the Association of' Community Cancer Centers.
BRRH is staffed with physicians who are board -certified in the diagnosis and treatment of patients with cancer.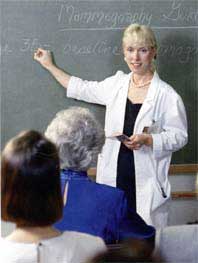 Instead of asking breast care patients - at one of the most frightening times in their lives - to sort through the opinions and advice of different doctors, the Center for Breast Care advocates the team approach. We have staff professionals from all related disciplines - radiologists, oncologists, breast surgeons, plastic and reconstructive surgeons, pathologists, nurses, technologists and therapists. Working together, they devise a comprehensive and cohesive plan of action. This approach improves the quality of care.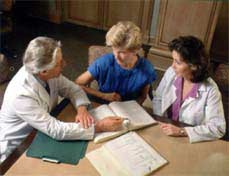 The Patient-Care Coordinator
At the Center for Breast Care, we are committed to keeping patients informed and comfortable so they don't fear what's ahead.
We assign each patient her very own patient-care coordinator - a nurse who provides guidance and information at every turn. This patient-care coordinator can serve as a liaison between doctors, as well as between patient and staff She is here for questions, education, guidance, and reassurance.
The Blessing of Early Detection
Early detection is the single most powerful tool in fighting breast cancer, The sooner cancer is detected, the more options a woman has for treatment and the better her chance for survival. That's why the Center for Breast Care places such a strong emphasis on early detection - to catch initial cancers, as well as possible recurrences. Methods for early detection include:
This safe, low-dose x-ray of the breast can be a crucial tool in helping discover small lumps. The Center for Breast Care provides screening and diagnostic exams, Screening mammograms arc also available in our Mobile Mammography Van, which can be reserved by organizations such as condominium associations, employers and shopping malls.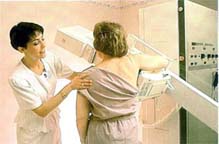 Breast Self-Exam
Our staff can reach patients how to examine their own breasts each month and, using a lifelike model, can let patients discover how various lumps feel.
Physician Exam
Experienced physicians supplement patient self-exams and mammography, offering professional assistance in the role of early detection.
First Things First: Accurate Diagnosis
The initial detection of a lump or mammographic abnormality is the beginning of the diagnostic process. Often a lump is benign - non-cancerous - and the patient continues regular self-exams, mammograms and physician check-ups. Sometimes cancer is present, and the patient is presented with a variety of treatment options.
The staff at the Center for Breast Care may use a variety of methods to accurately diagnose a patient's individual situation.
This procedure uses sound waves to provide pictures of suspicious areas in the breast, helping to distinguish between cysts and solid masses.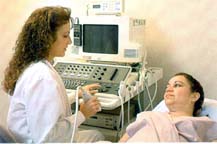 Ultrasound Guided Needle Biopsy
With a very thin needle, physicians can remove enough tissue and/or fluid from palpable or non-palpable masses to help determine if they are cancerous.
Non-surgical, Digital Stereotactic Breast Biopsy
The Center for Breast Care of Boca Raton Community Hospital was the first in Palm Beach Couny and the second in Florida to employ this advanced technique. Using digital imaging and a computer-guided, hollow-core needle, physicians can determine whether a non-palpable area is cancerous. This one-hour, outpatient procedure is virtually painless, highly accurate and produces no scarring.
Physicians sometimes find it necessary to surgically remove all or part of a suspicious mass before they can determine whether it's cancerous.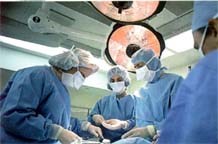 Magnetic Resonance Imaging is a radiation-free procedure that provides detailed images of the breast, further defining lumps an pinpointing size and location. MR images also can help physicians evaluate breast implants.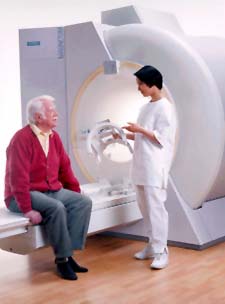 When biopsies indicate the, presence of cancer, immediate surgery is the most effective way to remove the cancer and guard against a possible recurrence. Options include: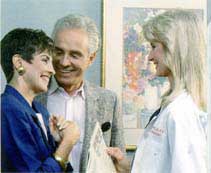 Lumpectomy
This is the surgical removal of the Jump and sonic surrounding tissue, a procedure that often can be used in earlier stages of detection.
Mastectomy
The surgical removal of the breast may be necessary if the mass is large, if the cancer is late stage, or if the risk of spreading is high.
Reconstructive Surgery
Patients often choose to have our hi ghly skilled plastic surgeons reconstruct a breast during the mastectomy procedure.
Radiation and Chemotherapy
To help eradicate the cancer, these treatments often used instead of, or in conjunction with surgery. The Center for Breast Care, through Lynn Regional Cancer Center of Boca Raton Community Hospital, offers, the most advanced radiation and chemotherapy treatments.
The Center for Breast Care rounds out its healthcare program for patients by providing comprehensive risk assessment, wellness education, rehabilitation programs, and counseling opportunities. In addition to physical therapy, including lymphatic massage therapy, the Center for Breast Care also Offers psychosocial counseling and a variety of support groups for patients and their families. We also offer a resource and referral network, as well as a health resource library.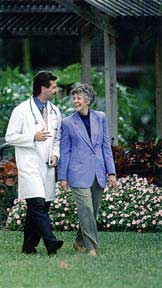 Innovation, Compassion, Support
By putting patients first, the Center for Breast Care together with The Women's Center of Boca Raton Regional Hospital is the area leader in the screening, diagnosis and treatment of breast cancer. From our innovative team approach to our research affiliation with nationally renowned facilities, we are dedicated to providing the best possible care for our patients. It's part of our ongoing commitment to keeping the community healthy.